Deaf Family GROW on Monday nights
A new class and worship opportunity for deaf friends or family members to help their faith grow.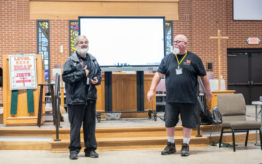 God's word shared in a way you can understand
Reaching out to deaf people and their families
Supporting & encouraging families to deaf children
Encouraging others to learn and practice their sign skills
Monday night worship
Immanuel Lutheran Church in the Fellowship Hall
115 S. Sixth Street
St. Charles, MO 63301
5:00 p.m. – Food & Fellowship
5:45 p.m. – Gather for Opening
6:00 – 6:15 p.m. – Weekly Story – All Together
6:15 – 6:45 p.m. – Age Level Story Stations
6:45 – 7:00 p.m. – Closing – All Together
7:00 p.m. – Fellowship
Deaf and hearing teachers to share with ALL ages. Everything signed & voiced for ALL to understand.